Meet 31 year old music teacher, Ciaran Mullin. Find out why he got started with martial arts and how it helped him transform as a person…
Getting started is always tough… Your insecurities take over – Will I be good enough? Will I fit in? I don't know anyone? What will the others think of me? Here at Champions Gym, 86% of people who start with us have never done anything like this and we understand that although initially it can be daunting, the fear outweighs the benefits in the long run becoming a member of a club that supports success whether it be health and wellbeing – Fat loss, improvement in muscle tone, stress relief or to learn new skills, develop self defence or to meet new people! Check out the video above and see why the first choice for Muay Thai, Boxing and Strength & Conditioning is Champions Gym with two clubs located in Perth – Highgate and Myaree.
"The journey of a thousand miles begins with a single step"…
We hope you enjoyed this video!
#CHAMPLIFE #STRONGERTOGETHER
Sign-Up and be the first to know about upcoming releases, events and more.
The story of Scottish born Muay Thai champion Chris "Killer" Watt. Born in Aberdeen, Scotland, see how a quirky, geeky kid found his love for martial arts and how it transformed him into the man he is today…
Chris "Killer" Watt is an ISKA Australian Middleweight Muay Thai Champion. Hailing from Aberdeen Scotland, Watt has been a three time Western Australian champion winning the WKA championship twice along with the WMC championship.
Since starting karate at 8 years old, Watt's family migrated to Australia and found a new life in Perth, Western Australia where he has since fought competitively across kickboxing and Muay Thai since age 14. Watt's trademark walk forward and love for throwing elbows guarantees an exciting match and has the crowd on the edge of their seats!
Watt has fought and beaten some of the best in Australia including Franz Sanchez, Alex Ilijoski, Jakeb Whitman, Ric Pisaneschi, Tom Lawrence and Matt Moss with an Australian title loss against current champion Luis Regis he looks to rematch in 2020. Watt looks to continue his success with some big match ups scheduled for the remainder of 2019…
Keep an eye out for Chris "Killer" Watt as he looks to earn his way to the international One Fighting Championship circuit!
We hope you enjoyed this video!
#CHAMPLIFE #STRONGERTOGETHER
Sign-Up and be the first to know about upcoming releases, events and more.
Highlights of female Western Australian Champion Victoria Sullivan winning the Muay Thai Australian Title defeating Leonie Macks Saturday March 2, 2019. The event was Futures IX brought to you by Chantel Green of True Grit Thaiboxing in Mandurah Aquatic and Recreation Centre. Read the original article here
The championship bout was fought fought over five, three minute rounds between underdog Victoria Sullivan challenging seasoned veteran Leonie Macks from Queensland. This bout was at Sullivan's natural weight division, in which she holds four State Championship titles. The title win against Macks was well deserved following a hard year of learning that was 2018 where in August Sullivan was defeated by split points decision by Brooke Cooper fighting for the Australian Title in the weight division below where the two fought for the Super Featherweight Title (58.9kg) WMC Australian Championship (twelve weeks prior Sullivan suffered a slipped disk in a weight lifting accident).  In February 2018, Sullivan was also defeated Chelsea Hackett in a five round thriller for the WBC Muay Thai Lightweight Australian Championship on the Gold Coast.
Thank you to these female Muay Thai champions paving the way for the future generations!
We hope you enjoyed this video!
#CHAMPLIFE #STRONGERTOGETHER
Sign-Up and be the first to know about upcoming releases, events and more.
One of the common mistakes people make when starting out with the Muay Thai clinch; is using brute force and pure strength which tends to result in becoming fatigued very quickly. The alternative to this is using effective clinch grip technique, small but easy hacks that will assist and develop your Muay Thai clinch for less energy expenditure and using your opponent's energy against them.
Through my years of living and training at Sangmorakot Gym in Thailand as a teenager, I used to work hours upon hours of clinch per week with some of the most fierce world champions holding Lumpinee, Rajdamnern and Thailand championships. In this time I learnt many valuable tips, tricks and methods that allowed me to have the edge on my opponents – From a big puncher, to a big kicker, my clinch fundamentals helped me adapt accordingly.
It's a funny thing to see a full grown 90kg Western man thrown around by a 50kg Thai teenager in a traditional gym in Bangkok, simply based on the fact that the smaller Thai uses effective technique and leverage to his advantage. Below are some of the techniques broken down in the video…
Using Leverage:
1) Hooked Wrists – Inside hooks and outside hooks to grip the tricep or bicep as required
2) Elbows – Using the elbows under hooking an opponent's arms
3) Head Position – Minimising the space between your opponent's head, using your neck to lever off your opponent's
Clinch Grips:
A) 100% Neck – Using both hands on the neck to gain control of the opponent
B) 100% Arm – Using both hands on the opponent's arms to gain control of the opponent
C) 50% Neck/50% Arm – Using one hand on the opponent's neck and the other on the arm to gain control of the opponent
Practise these drills with a partner without gloves and as you get better, use gloves to become proficient in clinch grip technique.
Clinch work is best performed when the finer intricacies are better understood 🙂  We hope you enjoyed this video!
#CHAMPLIFE #STRONGERTOGETHER
Sign-Up and be the first to know about upcoming releases, events and more.
Most of the people who start boxing mainly focus on improving the power and quickness of their punches. However, there is an essential factor that they usually neglect. The footwork!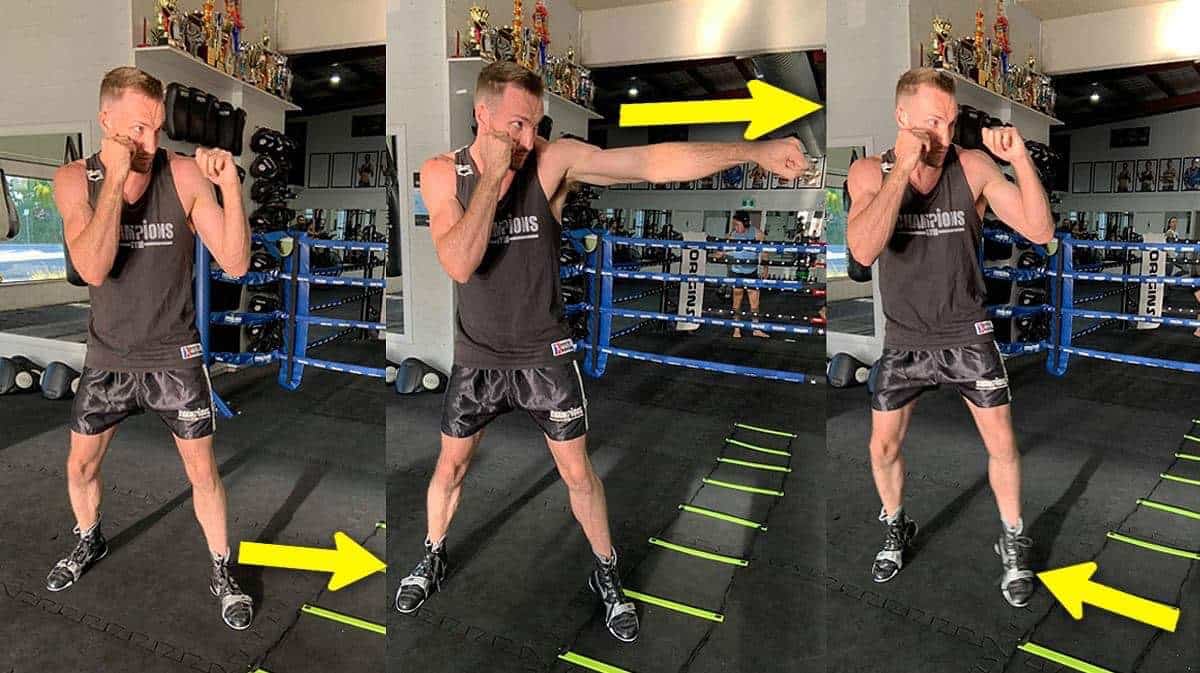 Defensive footwork is just as important as offensive jabs in boxing—maybe even more so as it helps you avoid incoming punches while landing clean ones.
By using an agility ladder, boxers can improve not just their speed but also their coordination and balance. You don't have to be a professional boxer, or even an athlete, to benefit from incorporating agility ladder drills into your workout routine.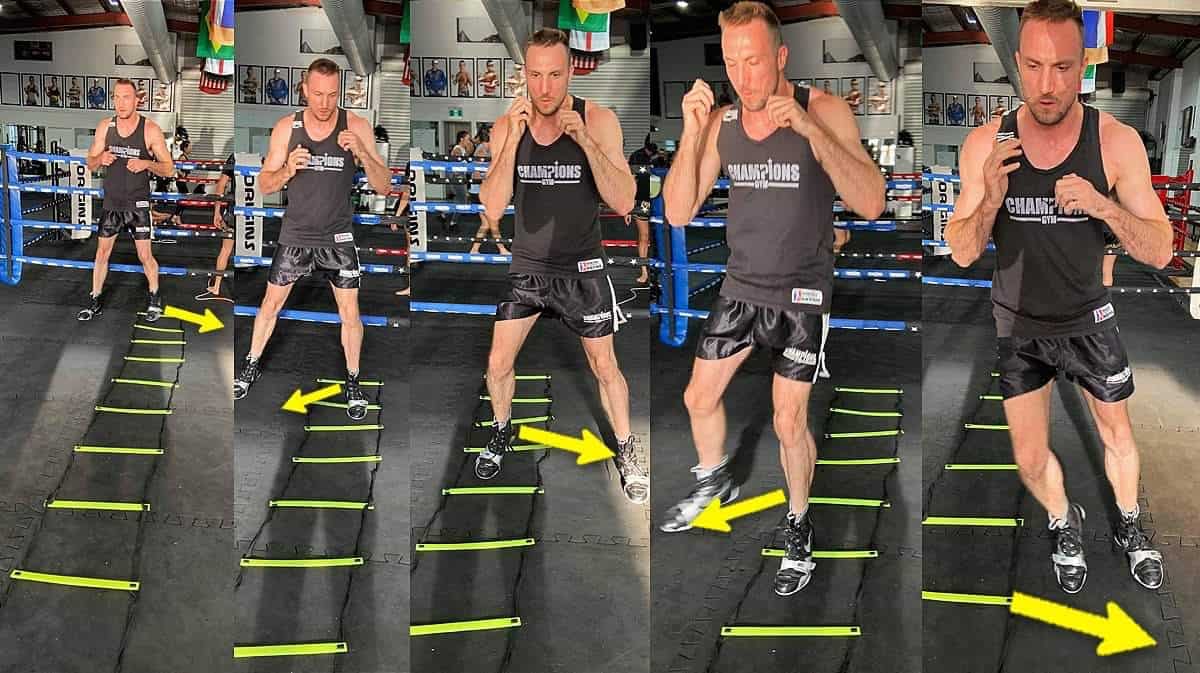 What are the benefits of speed ladder drills for boxing?
These exercises develop your coordination and balance. Also, they make your feet quicker, and you can control your body better. This way, you can get more quickly into a position where you can avoid the punches of the opponent or get to a point to hit him more effectively. If you see one of the matches of Floyd Mayweather, you will see how he uses his expert footwork to dominate in the ring.
I'm sure now you want to see some footwork exercises with the agility ladder. Here they are. Just watch the video below.
Sign-Up and be the first to know about upcoming releases, events and more.